When inserting or editing a booking in back office, you can select a payment method. If you have at least one payment gateway active, it will show along with additional payment methods only available in back office.
To activate these additional options, go to your TuriTop control panel >>> Company >>> Receiving payments >>> Back-Office and activate your desired methods.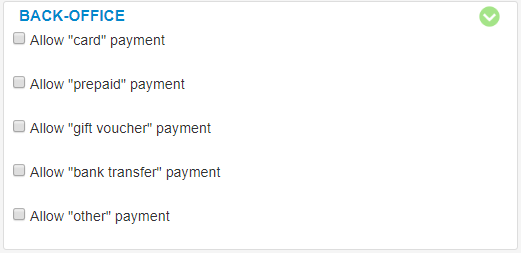 Keep in mind: these options are not associated with any payment gateway or physical means. Below is shown what these options mean.
Card: this indicates a payment that was made with a credit/debit card in a physical manner, e.g., in a physical POS located at your activities location.
Prepaid: this state defines a payment that was made prior to the beginning of the activity. This can be achieved online with partial payments.
Gift Voucher: this is used to indicate that, for some reason, the booking was paid as a gift for somebody else. This is an old option and has been substituted with the native Gift voucher service. Learn more here.
Bank transfer: it is used to note that the booking was or will be paid through a bank transfer.
Other: this is a generic field used to indicate that the customer made the payment through a payment method not defined in TuriTop, e.g. Bitcoin.