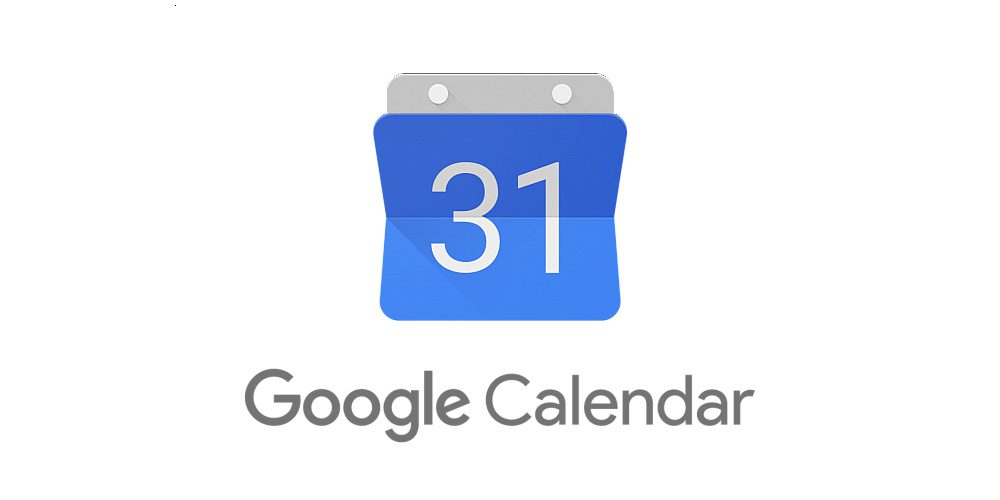 ---
Available for plans: M | L | VIP | Enterprise
Where can I find it? More >>> Google Calendar.
---
Our integration allows you to:
Insert an event in the calendar when a booking is created.
Update an event in the calendar when a booking is edited.
Delete an event when a booking is deleted.
Insert an event when the action of deleting a booking has been undone.
Share a calendar of all your services with a maximum of 10 emails.
Stop sharing a calendar with an Email.
Insert an event when a gift voucher is redeemed.
Before synchronizing with Google Calendar please check that your services created on TuriTop have your time zone set. To do this go to ''Company'' >>> ''Default Settings'' and check that it matches your time zone. In the case that it does not, change it in ''Company'', and you will also have to go to ''Services'' and service by service, in ''Default Settings'' and change it in all of them.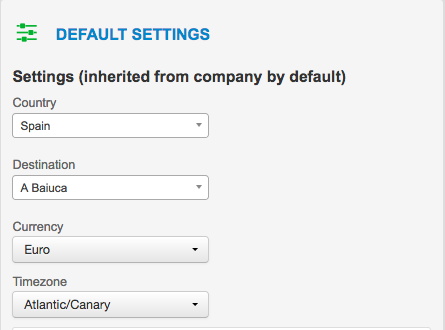 (Only applicable for services with Standard/ Tour/ Activity schedules). In order for Google Calendar to show the duration of each event/ booking, you have to indicate in ''Service Information'', of each service, the duration of your events.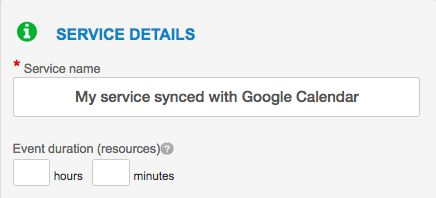 Once this has been done, we can now synchronize Google Calendar with your booking system.
---
Step 1: Activate Google Calendar on TuriTop
The first thing you should do is to go to your Control Panel >>> ''Button +'' >>> ''Google Calendar''.

Once active, insert a Gmail account with which you want to share the calendar of your booking system.

Once added, you will see it in a box below.
Here you can see all the Emails which you are sharing your calendar with.

You can add a max of 10 Gmail accounts to sync with the Google Calendar integration.
Now you will have to click on the Email with which you will be sharing your calendars

Then, you will only have to add which service/es you want to synchronize with that Email.

Once the service is added, simply wait for it to synchronize with Google Calendar.
It normally takes 7 seconds to insert a booking in Google Calendar. So please, be patient and do not close your browser tab until this process has been completed. This waiting time is set by Google Calendar itself and not by Turitop.

Step 2: Go to Google Calendar
Secondly, go to Google Calendar and once there you can see that the service you had added has been synchronized with your Google Calendar. You can see your bookings in a monthly view with the following format: Time Short-id - Booking number and your service on the left side under "Other Calendars" with the format: Short Id _ Service Number as shown in the image below: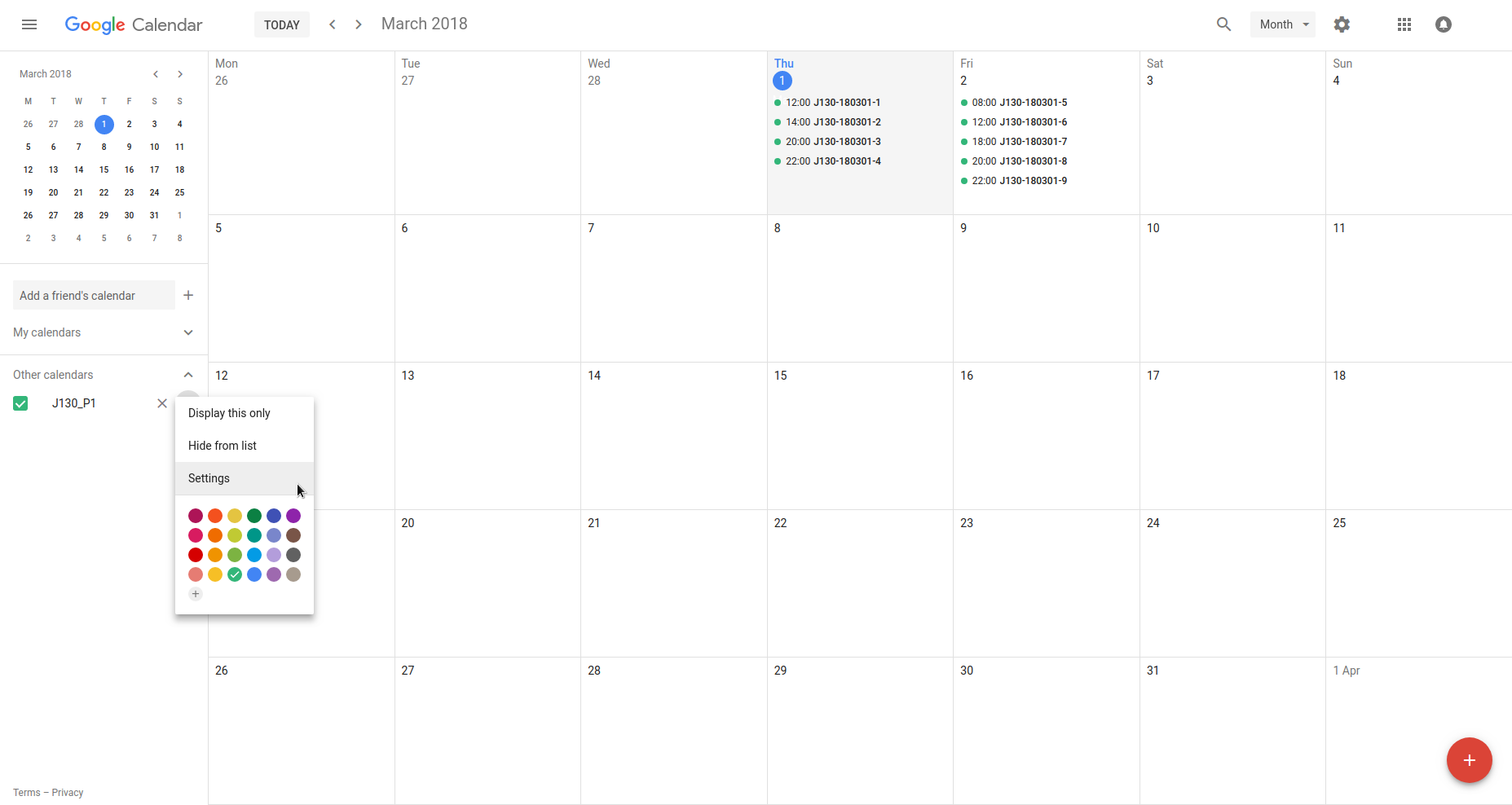 If you click on any of your bookings, a window will be displayed with all the booking information and a link to edit/view booking, which will take you to the booking tab of your Control Panel as shown in this image: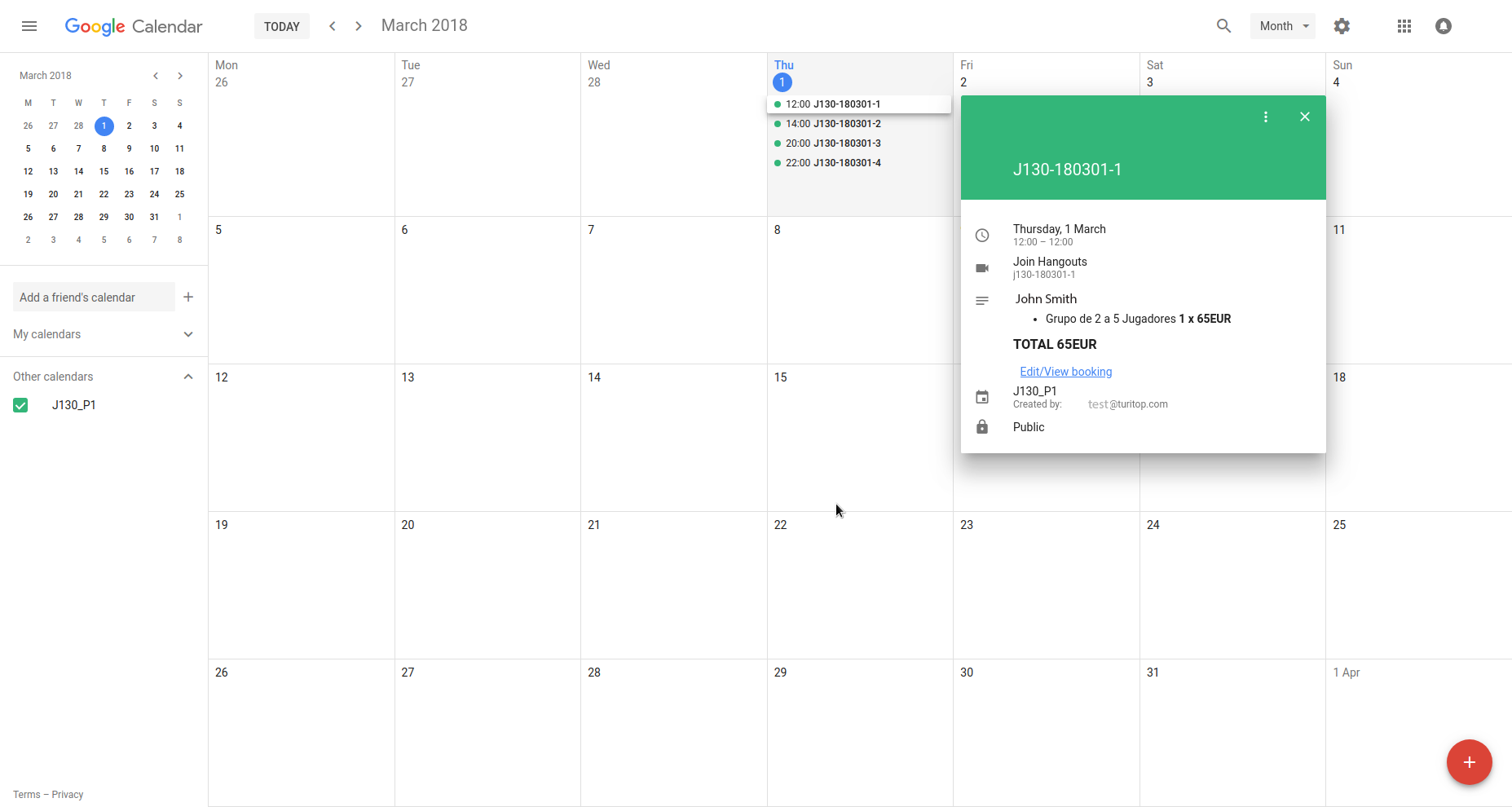 When you click on a booking from Google Calendar, this will take you to the Bookings tab of your TuriTop Control Panel where all your bookings appear. To see that booking you just clicked on, you must do a manual search with the number of bookings in the search field.
In addition, you have the option to see the Calendar in a daily view: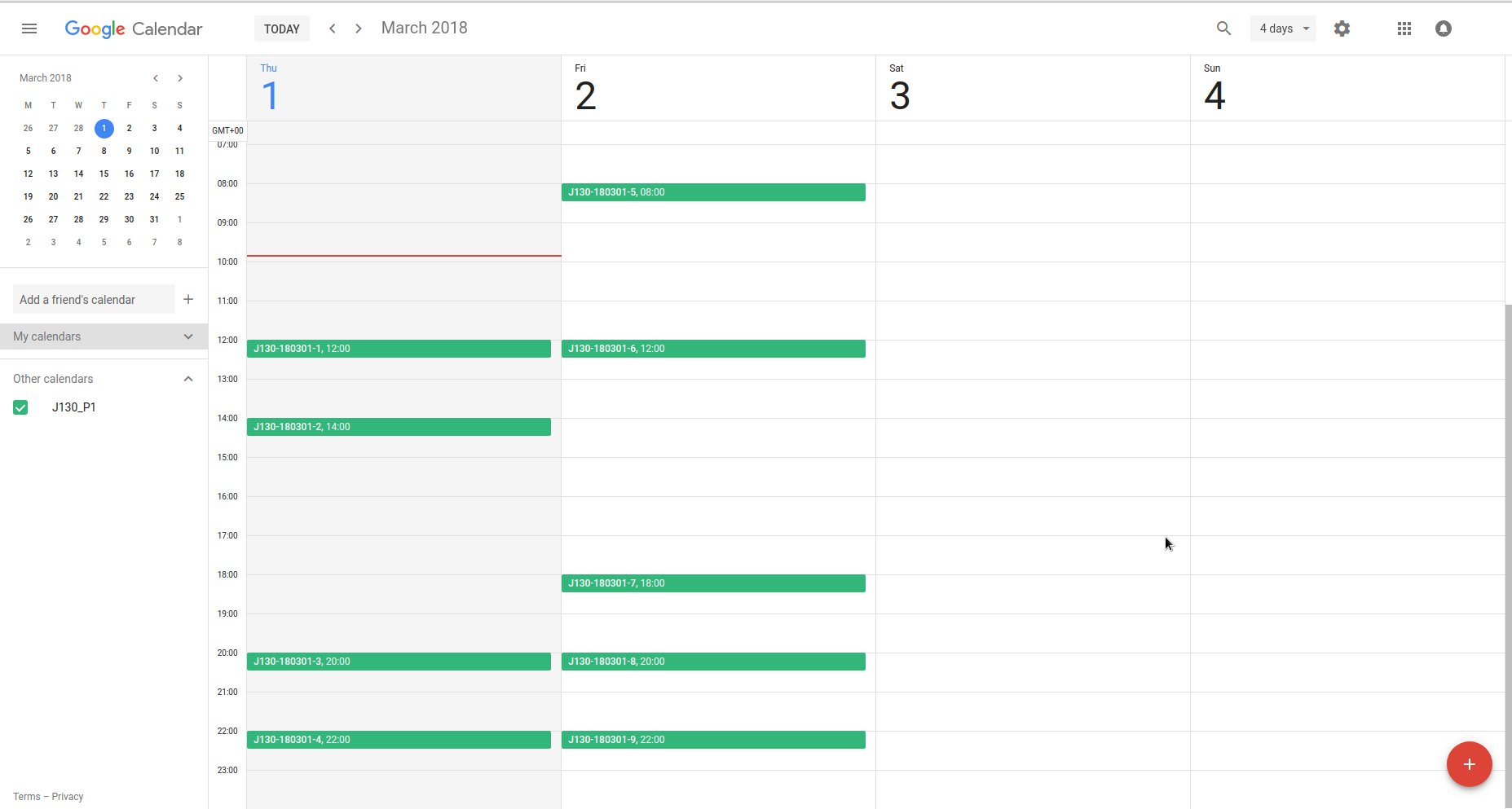 A very interesting tool is to create notifications. You can set up them by going to the service, on the left side of the screen, and clicking on the 3 dots >>> Settings: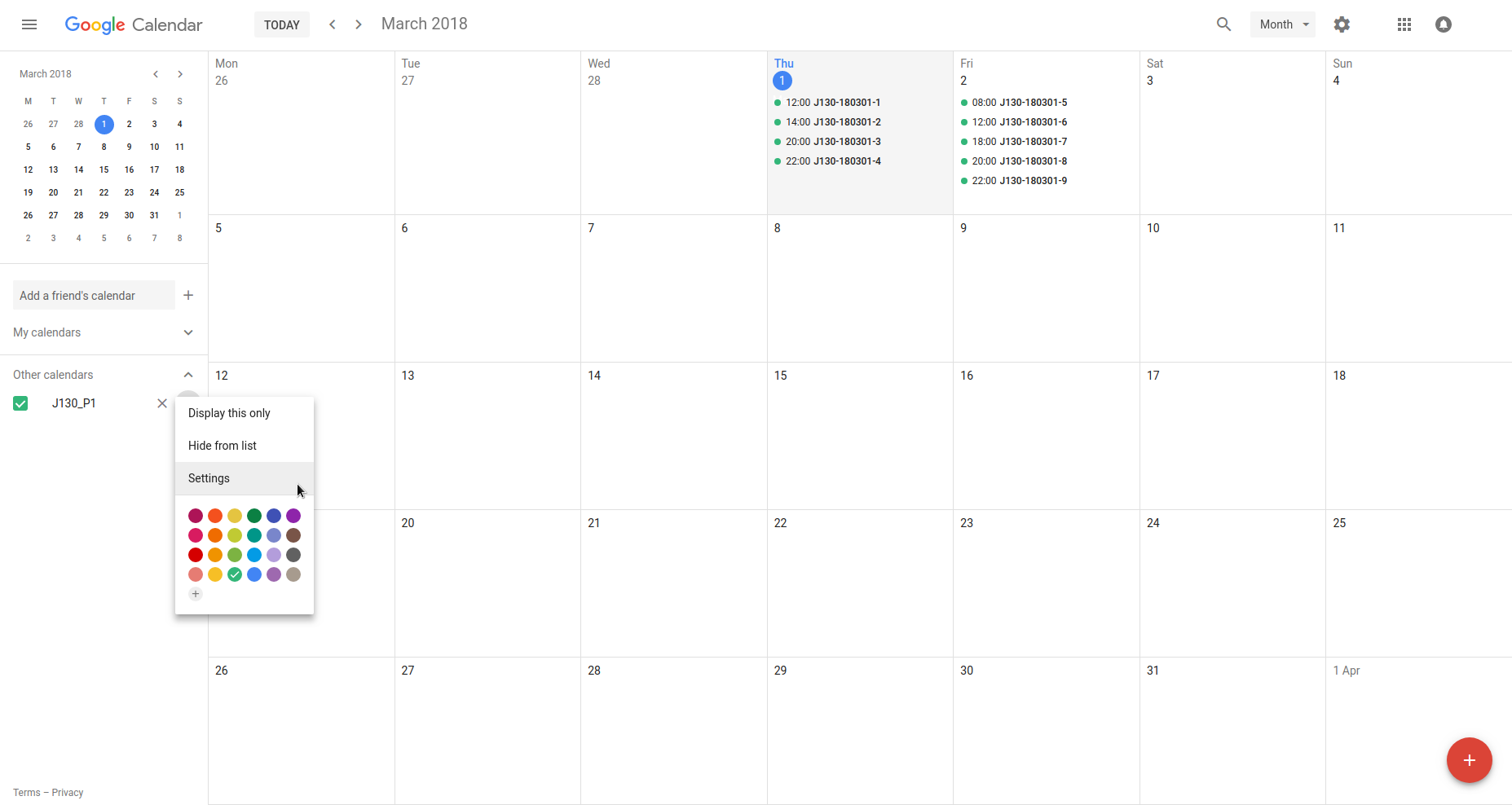 You can change the colour of your service in this window. The colour you choose will be the background colour of each booking.
In this window, you can change the name of the service and edit other data such as permissions, time zone, etc. You can also create Emails notifications for new events, modified events, cancelled events, responses to events and a daily agenda. For more information, you can read the Google Calendar documentation by clicking here.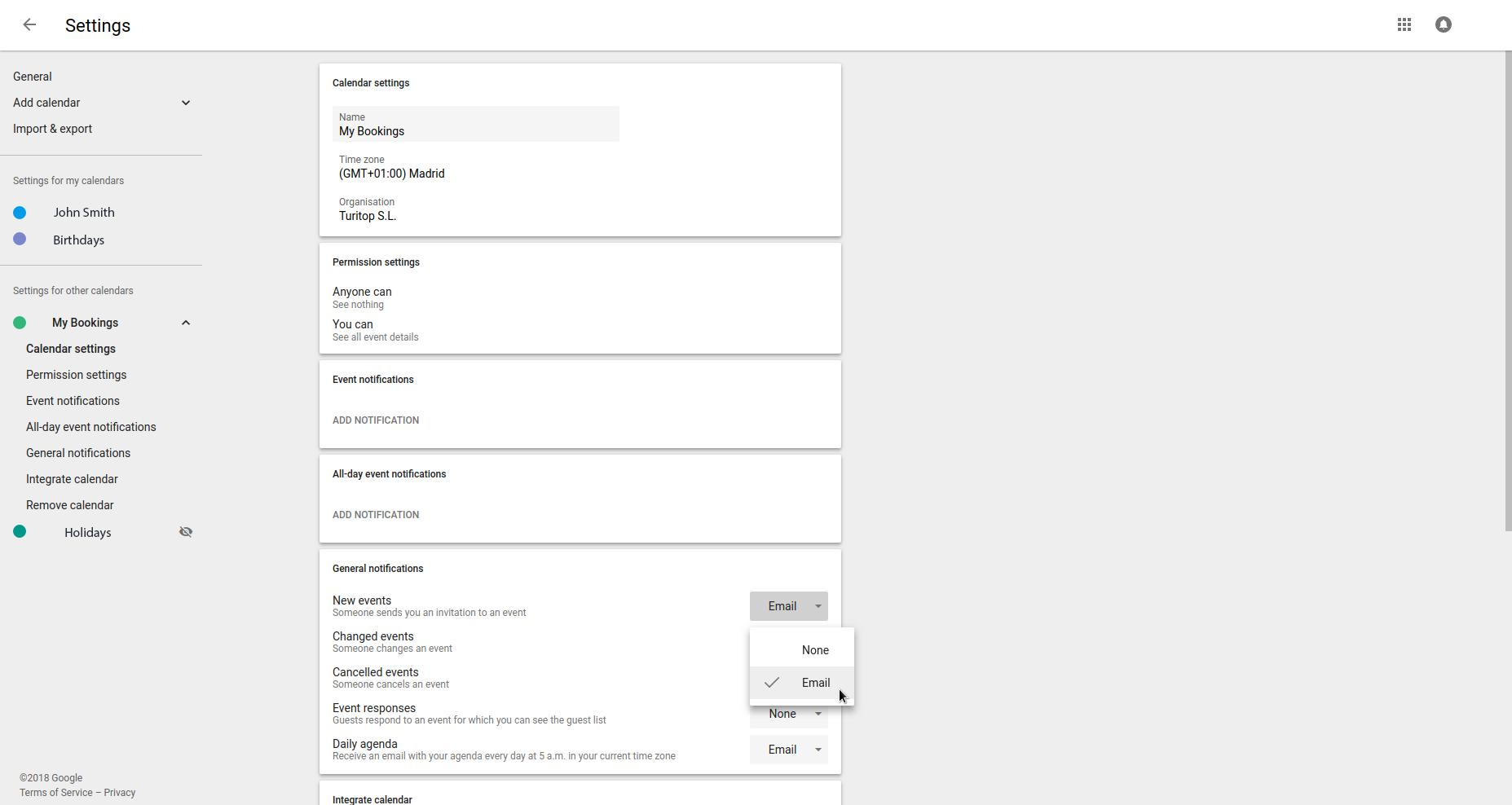 The synchronization described above is one-way, that is, only read from TuriTop to Google Calendar. This means that TuriTop does not support bidirectional synchronization from Google Calendar. In other words, you can not create an event/ booking from Google Calendar. This is because Google Calendar doesn't have many features that TuriTop does (for instance, a minimum time of bookings, blocking times, resources, prices, discounts, etc.) However, events/ bookings inserted from TuriTop can be inserted in Google Calendar.
Preferences:
While in the Google Calendar integration window, you will find the preferences at the bottom. Here you will be able to choose between two title name display options:
Show customer full name and number of pax
Show service (product) name and number of pax
If the Customer name doesn't exist, the service name will be shown by default.
Troubleshooting Guide
If you have never used Google Calendar with your Gmail account, the integration will not work with TuriTop. You have to use it at least once.
If you have not received the Email from Google inviting you to add your service to the calendar, check your Spam folder.
Remember that you have to accept all the invitations and it is likely that you will receive them in the same Email thread.