With this simple trick, you will be able to create new TuriTop users and accept the invitation to your own email inbox.
Some agencies, hotels, etc could already have a TuriTop user agent account. In that case, you can directly invite them with their own email address.
Why is this useful?
1. Invite all the resellers, agencies, hotels, etc you want and grant instant access to your TuriTop availability. Instead of calling you, they will be able to check availability and book by themselves.
2. The user agent won't need to create an account, you will create it for them.
3. If you wish to only register the user agent and don't allow them to access your account. Just make the booking yourself and select the registered agent.
4. You will make sure all the commissions are registered correctly within the system. Just filter by the user's name to check all the commissions.
Step 1: Create the user alias
The alias has this structure: (email name) (+) (user agent name) (@) (domain name)
Example: info+agent1@turitop.com
Step 2: Send the invitation
Go to Company tab >>> User Invitations >>> Send an invite to add a user to the company. Insert your alias email and click "Send invite"
Step 3: log out your account
Because you are using an alias (your same email address), TuriTop will show you a warning message, telling you to log out and accept later the invitation.
Step 4: Go to your email inbox, accept the invitation, and fill in the user information.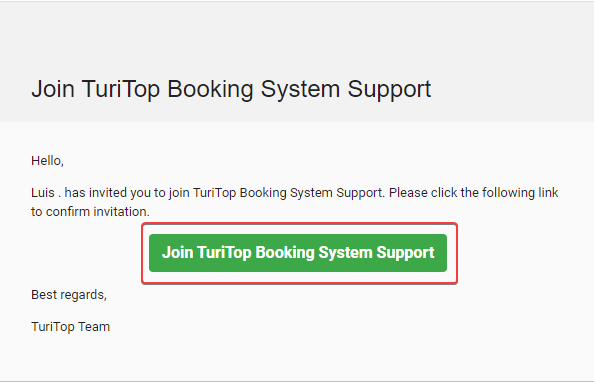 Step 5: Make a manual booking and select your new registered agent

Go to the Calendar tab and add a new booking using the + button. On the right side you will see "Registered agent"; select the agent and insert the booking.
Check all commissions to pay to all your user agents from Stats or Reports.