Available for plans: M | L | VIP
Where can I find it? Company >>> Receiving Payments >>> PayPal commerce platform.
Connect TuriTop with PayPal

Keep in mind: in order to use this
integration
, you must have a
partner account
with
PayPal
. Click
here
to learn more.
First, log into your TuriTop Dashboard and head to Company >>> Receiving Payments >>> PayPal commerce platform. Next, click on Connect with PayPal: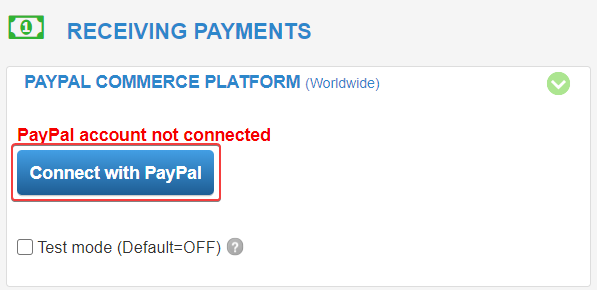 Follow instructions from PayPal.

Tip
: since the connection with PayPal is done mostly on a pop-up window, we strongly recommend you to disable any ad blocker software or plugin installed in your web browser.
Configure PayPal commerce platform
To continue, activate the integration in the same area as above:
Payment Methods
PayPal Wallet
Click on this option if you want your customers to pay with a PayPal account.
Credit Card Payments
Enable this option to allow customers to enter their credit/debit card data information at the checkout in TuriTop.

Keep in mind: This functionality requires that your business account be evaluated and approved by PayPal. You will automatically complete this process when onboarding with
Advanced Card Processing
selected.
The "Connect with PayPal" button automatically prompts the sign-up form for Advanced Credit and Debit Cards then. PayPal may request more information about your business before the account is approved.
The feature can also be signed up for after the account was connected manually with API credentials:
Activate advanced credit and debit card payments for your PayPal Business Account here.
Connecting another PayPal account
You can swap in another PayPal account if you need to change it. To do this, follow from this step.
Troubleshooting
Can't connect to your account?
If it's a new account, don't forget to confirm your email address.
My bank is linked to the PayPal wallet feature, what do I do?
PayPal sets this by default and by country, TuriTop is not liable on this scenario. If you have further questions, refer to PayPal's support.
Can I make automatic refunds?
Unfortunately, this is not currently possible. If you need to make a refund, you will have to do this procedure from your PayPal account.