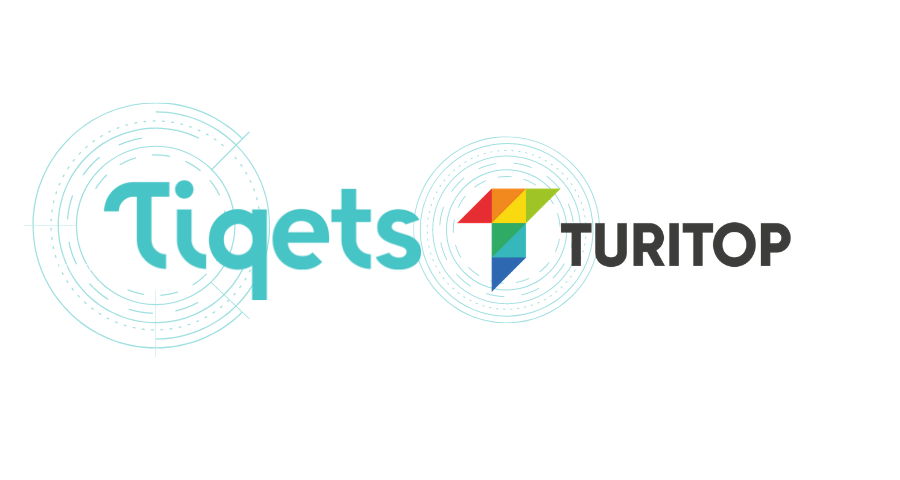 Tiqets is an online booking platform for museums and attractions that connects travelers worldwide with more ways to experience culture. Tiqets will help you give more visibility to your services and increase your conversions, while only charging their commission for successful bookings.
With your TuriTop reservation booking system, you can connect with this agency to synchronize the availability of your activities and unify the management of your services in a single panel.
In order for Tiqets to find your service in the TuriTop Marketplace, your panel must be in English or have been translated into said language. If you haven't done it yet, you have to go to the Translate tab of your control panel, select the English language, and translate the fields you have manually entered in the system.
---
How does the integration work?
When a traveler searches for your products on the Tiqets website, they will display the ticket availability directly recovered from your TuriTop account. When a booking is made from Tiqets, the booking information will be sent and inserted into your TuriTop panel, automatically updating the availability of all of your connected services.
---
Instructions
Step 1:Create an account with Tiqets
To start working with Tiqets you will need to register by accessing their supplier portal and clicking on "Become a Supplier". If you already have an account and your products are ready to connect, skip to step 2.
Step 2: Activate the integration
In your TuriTop's control panel go to Company >>> Channel Manager >>> Tiqets and click on "Active".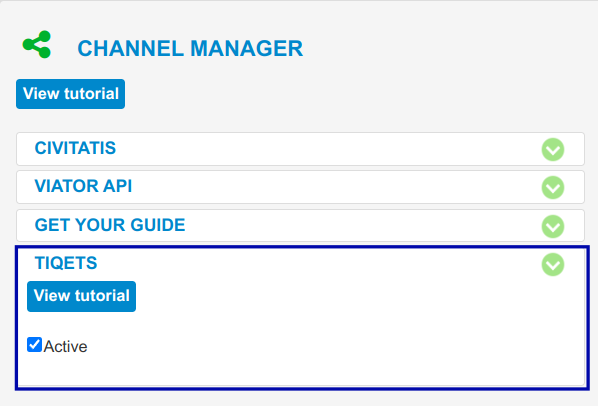 Step 3: Enable the service and generate the product ID
Next, go to Services >>> the service you want to connect with Tiqets >>> Channel Manager >>> Tiqets.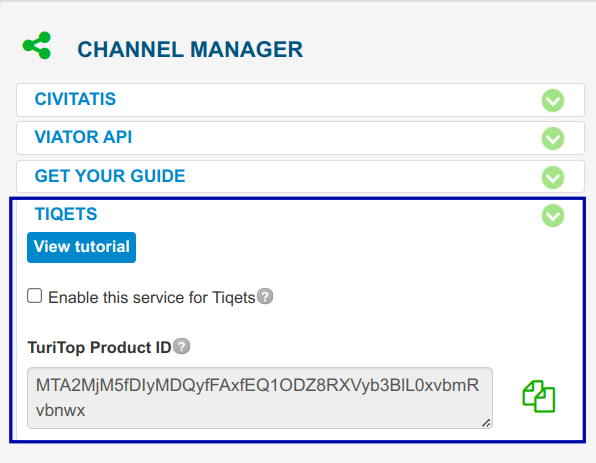 Once there, click on "Enable this service for Tiqets" and copy the TuriTop Product ID (using the green copy button to your right) to your clipboard.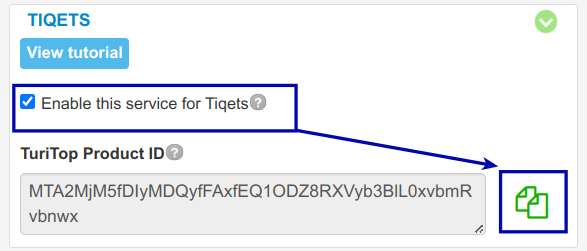 Step 4: Contact Tiqets and provide them with the TuriTop Product ID
In this final step, you will need to reach out to your Tiqets account manager or support agent and provide the TuriTop Product ID copied in the previous step. Please, bear in mind that you should inform them which product in Tiqets is to be connected with the TuriTop one to ensure they are properly matched.
Contact info
Your main point of contact as a supplier will always be your account manager. But you can write to their support team via customerservice@tiqets.com or their contact page.